I'm the kind of person who reads the Wikipedia synopsis of a scary movie instead of watching the film because I don't like scary stuff. Somewhat surprisingly, I do like ghosts–that's actually the only kind of "reality" tv I'll watch.
Brenda Lyne's upcoming book The Thirteenth Cabin (aka. TTC; to be released Sept. 13) isn't exactly scary, but it sure is a thriller!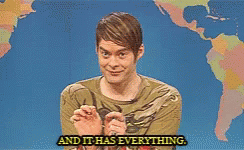 It's got journalism (squeal), it's got mystery and investigations (squeal), and it's got some juicy secrets–identity secrets, family secrets, love secrets… you're just almost sure to be enthralled!
(Real quick, not only do I have a vlog, but quick plug for this other delightfully spooky book by Lyne, Sister Lost, was such a fun read, I knew when she reached out about this book, I had to say yes!)
First, I'm 99% sure this is going to turn into a series, and if it is, I am HERE FOR IT. TTC follows investigative reporter Raegan O'Rourke who has a few secrets: one, she has the paranormal ability to touch an object and psychically see events that object has "seen;" two, that ability makes life really hard, and she doesn't exactly handle the stress in a healthy manner; and three, her gift–which has been passed down from her family for four generations–stands between her and the love of her life. Rough.
But this isn't a love story, it's a mystery! (With an underlying love throughline, which is why it better be a series because I wanna know more!) One day, Raegan's lovely neighbors come home and they've suffered a tragedy on what was supposed to be a fun summer getaway at a lakeside resort. Determined to figure out the cause of said tragedy (a fire), she decides to go to northern Minnesota and visit the same resort and figure out what happened. While there, she discovers that there's a deeper, more sinister mystery lurking in the lakeside town of Catclaw. Two teenagers disappeared more than 20 years ago and their ghosts are haunting the town. Will the small town people trust her to help them uncover the mystery? Can she solve a cold case that's more than 20 years old?? And will she be able to move past her own, personal problems along the way???
It was difficult to put the book down. I thought the story was engaging and the pacing was pretty good. The story flips between present day, first person narrative from Raegan and then the past is usually told in third person and from a variety of perspectives: Raegan's family, the Catclaw kids, etc. There are also a few chapters told from the perspective of the arsonist who burned down her neighbor's cabin. At first, I wasn't loving the flashbacks, but with time, I grew to really appreciate the context they provided in a very show-y rather than tell-y manner.
I loved the characters in TTC too. I really enjoyed how complex and multifaceted Raegan was in particular–I mean, when you have a power that makes it so that you can't touch anything or anyone without having sensory overload, it totally makes sense that you'd want a way to cope. At times, her coping method (sorry, spoilers!) was a little frustrating, especially when it distracted her from the very dramatic case at hand. But, it was understandable, so when she decides to look for a new path near the end of the book, it was a satisfying turn of events.
I think the Catclaw townspeople were also really fun, quirky characters. From the mega weird Lamberts to the lovably expressive Sheriff Overton, not one character was underdeveloped. And, coming from a formerly-and-now-wanna-be small town, I loved how Lyne captured the closeness of the community, it very much gave me Dual Spires vibes (from Psych).
So, for anyone who likes paranormal mystery, strong female characters, crime… this is definitely a book worth checking out! There is some swearing, talk of murder, and discussion of sex, however (the last one fairly minimally), so if those are flags for you, be aware, but I don't think that it would–or should–deter you from checking out this fabulous mystery.
I'm very much looking forward to others in the Raegan O'Rourke series, so fingers crossed they come out soon!
That's all I've got for this week. Next week I'll be getting to another book in my TBR list: Michael Connelly's The Law of Innocence
Happy Reading!